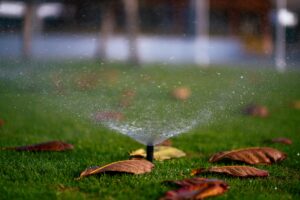 The Best Smart Sprinkler Controllers of 2023
If you're looking for a smart sprinkler system that takes the guesswork out of when to water your lawn and flowers and keep them looking their best, look no further than our list below of top-rated smart sprinkler controllers. We all need and want more time in our lives for the best life has to offer, and with a staggering number of appliances and products becoming smarter with automatic sensors and timers, it's a wonderful help from technology.
How to choose the right smart sprinkler controlller
When you're looking for a smart sprinkler controller, keep these key points in mind: 
Stations – The number of stations your sprinkler system has, the more hook-ups towards separate areas you have. Each valve is connected to a numbered terminal within the controller, identifying each as Station 1, 2, 3, so on, and the controller operates the valves for you, in order. However many places you'd like watered, you can get 6-Station, 12-Station, or more/less type sprinkler controllers depending on your preferences. 
Compatibility – Like all smart devices, make sure that the one you're purchasing is compatible with your choice of Google Home, Alexa, etc., but most importantly that you have a strong Wi-Fi connection as smart sprinkler controllers need to use the data from your Wi-Fi to determine the weather, forecast, humidity, and more, to do its job correctly. 
Cost – Smart sprinkler controllers can end up costing a decent amount of money, especially if you're going for a more advanced controller that has more stations. Most smart sprinkler controllers start at around $60 for cheaper models, the average cost is about $100+, while the top-of-the-line controllers can hit the $400 mark. 
Features – While smart sprinkler controllers all seem similar at a glance, there are variations on just how much, and how accurately, they can do their job. Be sure to check what features your preferred smart sprinkler controller has and if it's enough for your lawn and flower watering needs around the home. 
Our methodology
With an array of smart sprinkler controllers out there, it can be difficult to choose which one works best for your home and lawn. Our team spent over 10 hours researching to choose the best top-rated smart sprinkler controllers available within Canada, ensuring the best choices. 
For this particular buying guide, we chose the best and top-rated smart sprinkler controllers available within Canada. Using top-rated user reviews on Amazon, as well as researching other peer-resourced sites, we made our comprehensive list. 
The best smart sprinkler controllers in Canada
Orbit 57946 B-Hyve
Orbit's B-hyve Smart Sprinkler is one of Amazon's best seller for good reason. Available in 6-Station or 12-Station options, decent price tag, and great customer service and features, you can't go wrong with giving the B-hyve a try as an introduction into Smart sprinkler set-ups. 
Right out of the gate, the B-hyve smart sprinkler controller is fully functional for Android, iOS, and web devices. You can program your timer with the app, on the timer itself, and/or let the weather-based algorithm software create a program for you, taking out all of the guesswork. The WeatherSense technology automatically adjusts your controller to water your lawn and plants the right amount they need. It provides watering based on several factors, such as soil type, shade/sun, live weather feeds, and other factors like whether your lawn or plants are on a slope. 
You can use the swing panel for easy access to the angled wiring terminals, and the plug-and-go cord can be cut down for hardwired application. It's WaterSense certified and approved, that will save you money on water use. A handy function is that the smart sprinkler timer is nestled in a water-resistant case that can be installed outside or inside and has a built-in locking cabinet to keep your B-hyve safe from weather or harm. 
Voice control is available with Amazon's Alexa, and Google Home can be set-up as well for easy access using your Home app, or through Orbit's B-hyve app. If you want to check on your plants/yard and aren't with your phone, it is all accessible through their web page. You can start your watering sequence with a single phrase or ask it to water a specific section such as the front yard. A Rain and Freeze Sensor is available with the B-hyve, which may be a good additional purchase when you live in a place that has unpredictable weather, such as almost anywhere in Canada. 
Pros
Easy to install and use. 

Can monitor everything from your mobile phone. 
Cons
If you don't label your wires beforehand, it may be a headache to adjust later.

 
---
Rachio 8-Zone Sprinkler Controller
Rachio is Amazon's other best and top-selling smart sprinkler controller, with simple installation and an app designed to work whenever you need it to, no matter where you are as long as you have a Wi-Fi connection. 
The Weather Intelligence system automatically saves you water, power, and money with its shut-off feature whenever it's raining, freezing, overly windy, overwatered, and/or when there's a shift in seasons, such as summer to fall. Weather forecasting and all other information are taken from your homes internet and is upgraded from previous models. 
You can start, run, pause, and stop any or all of your sprinkler set-ups with Rachio's easy to use app from your smartphone, wherever you are – even if you're halfway across the world. No special tools or extra appliances are needed to install the Rachio controller, and you should be able to get it up and running from the box in under 30 minutes. 
Rachio creates smart schedules for your plant and lawn areas based on their needs and automatically adjusts accordingly based on plant type, sun/shade exposure, soil type, and other similar conditions that change and fluctuate throughout the day and seasons. It works with Amazon's Alexa, Google Home, SmartThings, and IFTTT to deliver you the easiest system available. Just tell Rachio to water the lawn or water whichever area you'd like, start or stop your sprinkling sequences, and more. It can be set to water and stop at certain times as well for any area you have it set for. 
It does come in an 8-Station configuration and is only available in a Grey colour. The Rachio R3 is similar in style but is White and has a few more features for a larger price tag. The Rachio Wireless Flow Meter is a separate add-on you can include, but it is only compatible with the R3, not the R3e. Just something to keep in mind whether or not you require that with your smart sprinkler system set-up. 
Pros
Easy to install. 

App is fantastic to control from.
Cons
On the pricier end. 

Magnetic cover may not stay on solidly.

 
---
HRC 400 Hydro
Hydro-Rain's HRC 8-Station smart system controller is a Smart sprinkler controller that allows you to use B-hyve technology alongside it as well, so if you have an entire B-hyve ecosystem running your smart sprinklers and other appliances this will be a fantastic choice for your home. 
A fast and simple installation right out of the box requires no in-field transformer wiring for the power cord, and set-up can be done within 30 minutes or less. The hinged panel-door allows for an easy access to all valve wired connections, the multi-site management control can be done from the panel, but mainly will be done through your mobile app. 
The smart-watering options are like the B-hyve and other smart sprinkler systems that check for soil type, slopes, shade/sun, historical ET, weather, and similar environmental factors. Live weather feeds and forecasts will be used to determine the watering set-ups, and will smartly adjust accordingly, taking all of the guesswork out of your daily routines. 
Rain delay sensor bypass technology will allow you to automatically or manually delay rain up to 24, 48, or 72 hours, including 4 to 32 days as well, if necessary. If you live in an area that gets constant rain or turbulent weather patterns, the rain delay will definitely help save water, time, and worry, when it comes to accidentally overwatering plants and your lawn. 
Pros
Easy to use, app is fantastic. 

Uses the B-hyve ecosystem/is compatible.
Cons
Pricier. 

Water restriction settings can only be set to all zones, not individually.
---
Hunter Industries HC12
The Hunter 12-Station smart sprinkler controller is an ideal choice for residential and light commercial use, as the 12 Stations work great for any yard work you can throw at it, in a white and blue boxed package. 
As with other top-rated smart sprinkler controllers, Hunter uses live local weather updates to automatically adjust its watering rate to ensure that your lawn and plants don't get over or underwatered. Sunshine, shade, and slope are all measured to guarantee the right amount for the job, and also saving you money on your water bill. 
You can easily manage your set-up through your smartphone, tablet, or online with the Hydrawise app. Full programming options are available via the controller interface itself with the bright touchscreen or done through the application. Two sensor ports allow for a higher rate of accuracy, lowering the chances of any errors or mistaken water levels that can lead to overwatered yards. 
It is on the pricier end of just over $200, but for the simplicity of set-up, how easy the app is to use, and for peace of mind to just set your schedules and go, it is a good choice to try. The white box with the blue side panel may not appeal to everyone design-wise, so if that is something you're looking at as well, the Hunter Hydrawise might not be the best choice. 
Some users have stated that this model doesn't seem to set different watering times for different zones, so if you'd like to set your front yard to be watered at 7:00am and again at 11:00pm, you may not be able to. It may depend on your set-up, but it is worth noting. 
Pros
Great interface.

 

Works well for most yard applications and settings.

 
Cons
Install may take some time.

Screens can die faster if used too harshly.

 
---
Netro Smart Controller
Netro's sleek design and overwhelmingly positive reviews make it a contender for a well-priced smart sprinkler controller that works for nearly any yard. Coming in both a 6-Station and 12-Station option and a price tag under $200, it's worth checking out. 
In this slim and gorgeously designed pearl white box is an easy to install sprinkler controller that has all the bells and whistles of higher end controllers with a smaller hole in your wallet. Installation should take 15 minutes or less and requires no professional set-up required, just some basic tools. 
The fully automatic system dynamically creates a custom watering schedule that's optimized for your plants and yards. Weather forecasting and historical data coupled together with slope detection, soil type, all of the features other controllers takes the guesswork out of your day. Water restriction alerts and automatically complies with local watering rules in your area, which can be especially helpful if you live in a place that receives droughts or floods that tends to change up the rules in regard to watering your lawn. 
Remote access over Wi-Fi allows you to monitor, start/stop, customize, and control your sprinkler system set-up from anywhere – even across the globe as long as you have the application installed on your iOS or Android device. You can see weather forecasts, adjust the area you're in, in case it ever displays the wrong information, and check to see the hydration levels and other information within the app. 
Pros
Sleek design.

Great price.

Wonderful app.

 

Easy installation.

 
Cons
Wi-Fi is 2.4G.

Works only with iOS or Android 5.0+ app.

 
---
Orbeco Smart Controller
Orbeco's Smart sprinkler controller is a simple and cost-efficient 8-Station controller that responds and works well with voice commands via Amazon's Alexa, Google Home, and Siri shortcuts. 
Automatically detecting the local weather, it will adjust accordingly and make sure that your lawn and plants don't get over or under watered during the days and evenings. The Smart Weather Control will also automatically not water during rainy or snowy days, which is a wonderful addition to a smart controller, especially when you're living in Canada where it can be 25-degrees and sunny with a chance of snow in July. 
The app allows you to control and customize your set-up from anywhere as long as you have Wi-Fi internet access. Remotely monitor and control your system at any time. A nice touch is that you can name and customize the background image for each individual Station within the app, allowing for an easier time with making sure you've got the right connections set and all the plants are happy. You can let the sprinklers water everything themselves if set correctly, taking any stress out of the day or evenings when you don't want to babysit your lawn and make sure it's getting the right amounts. 
Pros
Cost efficient. 

Voice-command enabled.

Device name can be customized.
Cons
No 5G Wi-Fi capability.

Only available in 8-Station set-up.

 

Controller design can be too simple for some users.

 
---
Eve Aqua Smart Sprinkler Controller
An iOS friendly smart sprinkler controller, Eve Aqua has their small but mighty water controller. It attaches to any hose system and allows for seven different watering periods to be set throughout the days or evenings. 
Via the app, Siri, or direct button presses on the controller itself, this small smart system packs a punch for setting it up in less than 20 minutes and being able to customize and adjust within the application in no time. It's weatherproof, UV-resistant, and created in Germany. It has an automatic shut-off to ensure that you don't accidentally overwater any plants or your lawn, and you can easily see within the app how much water your hose uses while watering throughout the day. 
Effortlessly set-up your scheduling through your iPhone or Siri, and HomeKit support allows for even more automation and remote access with ensured maximum security without worrying about anyone causing trouble with your water system. It is a basic and small smart set-up, but if that's all you need for a small lawn or a few spots within your home, it's a great purchase for a decent cost. It is only seemingly available for Apple iOS currently, though that could change in the future. 
Eva Aqua's standard 26.5mm inch threading should fit most outdoor regular faucets but do keep in mind the sizing just in case it doesn't fit where you'd like it to. The app can show estimated consumption as well when checking and setting everything up, so that you can tentatively plan ahead for weather or bills, which is always a handy feature for any smart device. 
Pros
Small, sleek design. 

Great price. Sturdy.

 
Cons
Bluetooth connection can be unreliable.

HomeKit compatibility may be fussy.

Only available for iPhone.

 
Frequently asked questions about smart sprinkler controllers
How does a smart sprinkler controller work? 
A smart sprinkler controller takes away all of the guesswork when it comes to watering your lawn, plants, and flowers. They connect to your home's Wi-Fi network and by accessing local weather data, heat, humidity, etc. they will adjust the watering schedule as needed based on those different parameters and what's best for your lawn. 
Is a Wi-Fi sprinkler controller worth it? 
The functionality, control, peace of mind, and time saved by setting up smart sprinkler systems can be definitely worth it. Depending on your own schedule and personal preferences for watering your plants and lawn, it can be well worth not having to remember to turn them off, on, and factor in different weather patterns or sudden storms that may end up overwatering your hard work. 
What are the best sprinkler system brands? 
Rainbird, Hunter, Orbit, NDS, and Rachio are generally the best and most talked about sprinkler system brands, with their quality, pricing, and ease of use. If you're just getting into smart sprinkler set-ups, one of these is generally the way to go. They also include set-up help, warranties, and general knowledge that some other brands do not. 
Can I control my sprinkler with Google Home? 
Yes, absolutely! Most brands work with Google Home, as well as Alexa, and iHome. Just simply set up your system to your Wi-Fi, make sure it's all synced with your Google Home devices and whenever you'd like you can tell Google to water the garden, etc. You can also set designated times for your system to work and stop as well – much like any other Google Home / Smart device. 
Rachio vs Orbit: Which one is the best?
Both are easy to install and work fantastically. The major difference between Rachio and Orbit is that Rachio is generally far more expensive and has a sleeker design. They're both good purchases and if you can afford the extra cost for the Rachio, feel free to do so. Orbit's B-hyve sprinkler controller systems are great and best sellers for a reason; either way you go, you get a quality set-up.