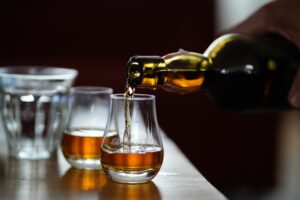 The Best Scotch Whiskies in Canada
After a long and tiring day, a good way to wind down is to sit by a roaring fire while sipping on a glass of scotch whisky. This liquor is the perfect drink for when you want to sit back and relax. For people just getting into scotch whisky, finding the right one may seem like a difficult task. There are countless scotch whisky brands to choose from. There are also several different types of scotch whiskies, and each has their own unique characteristics. To help you choose your scotch, we have selected the best scotch whiskies in Canada.  
What to look for in Scotch Whisky
When choosing a scotch whisky, there are some important things to consider. 
Scotch Whisky Type: In total, there are five different scotch types. Each differs in the way it is brewed. 
Single Malt

: This scotch is made from 100% malted barley from a single distillery, hence the term single malt. Single malts are touted as the

highest quality scotch

available based on their distinct flavours. 

 
Blended Malt

: This is scotch made from malted barley produced in two separate distilleries. Compared to the other types, blended malts are not that common.

 
Single Grain

: Like single malt scotch whiskies, single grains are made of corn or wheat from a single distillery. Single grain scotch whiskies tend to have a lighter flavour and texture, which makes them a good starter option for beginner scotch drinkers. 

 
Blended Grain

: These are made of wheat or corn from two different distilleries. And similarly to blended malts, blended grain scotches are uncommon. 

 
Blended Scotch

: This type is a mix of malt and grain whiskies produced in many distilleries. Blended scotch whisky is the most common type in the world. Their features can be less distinct than single malt scotch whiskies. However, there are some blended scotches that have very unique flavors. 

 
Age: You may have noticed that many scotch whisky bottles have an age on them (10 years, 20 years, 30 years etc.) The age means how long the scotch was stored in its barrel. Scotch whiskies are legally required to be aged at least three years. This is an important requirement. When whisky is first distilled, it actually has a clear colour. The reason for this is because it has not spent any time in an oak barrel. These barrels are responsible for giving scotch whisky its distinctive golden or brownish appearance.  
Aging scotch in a barrel can enhance its aroma, texture, flavour, and finish; the alcohol eventually evaporates and leaves behind a subtler taste. If you don't spot an age on the bottle, that means the scotch is between three to nine years old. Generally speaking, scotch drinkers prefer bottles aged 10 or more years. Older scotches may cost more, but they offer more in terms of features.  
Region: Scotch whiskies are brewed in Scotland. However, they come from various parts of the country. There are six scotch whisky regions: 
1.Speyside: Located in the northeast of Scotland. Whiskies from Speyside are known for their sweet and fruity flavour. 
2. Lowlands:  Located in the south of Scotland. The Lowlands is one of the biggest scotch whisky regions in the country even though it has less than five distilleries. Lowland whiskies usually have a soft texture with flavours like toffee, ginger, and cinnamon.  
3. Highlands: In terms of geographical size, the Highlands is the largest whisky-producing region in Scotland. The whiskies of this region tend to vary in flavour and texture. Some are smooth with a sweet taste. Others are subtler with stronger flavours.  
4. Campbeltown: This region only has three distilleries, but they all make a distinct drink. The distilleries produce a scotch that is dry in texture with a pungent taste. You can also expect sweeter flavours like vanilla, dried fruit, and toffee.  
5. Islands: This region is seen as a middle ground for scotch whisky. The whiskies produced in the Islands incorporate features from Islay and Highland scotches.  
6. Islay: This island region is the smallest of the five scotch producing areas. Still, eight distilleries call Islay home. The region's distilleries specialize in strong whiskies with tastes of salt, seaweed, peat, brine, and apple.  
As you can see, each whisky producing region has their own unique textures and flavours. We recommend you try a few samples from some of the regions to determine which style you like the best.   
Colored/Chill Filtered: These are two techniques added to some scotch whiskies to make them more visually appealing. In colouring, a caramel colour called e150 is added to make the scotch darker in appearance. With chill filtering, the scotch is chilled down to 0˚ Celsius and passed through a fine absorption filter. The goal of this process is to capture esters, proteins, and fatty acids that emerge during the distillation process. Again, chill filtering is a cosmetic technique. However, this process removes some of the heavier oils from the whisky. The oils add flavour to the whisky and removing them can affect the overall quality of the liquor.   
Scotch whiskies that do not contain colouring or chill filtering are more expensive than those that do contain them. In the end, it all depends on whether you're comfortable with your scotch whisky being chill filtered or artificially coloured.
Scotch Whisky Terminology Used in this Guide
Term

 

Definition

 

Dram 

A measure of whiskey. Technically, a dram comes to a teaspoon of scotch.

However, most people use dram to refer to an unspecified amount of scotch.  

Finish 

How the scotch lingers in your mouth.

 

Neat 

Drinking scotch without ice or water

 

Notes 

Another way of saying the flavour of a scotch.

 

Palate 

Your personal taste, i.e., which flavours you enjoy or dislike.

 
Best Single Malt Whiskey
Glenfiddich 12 Year Old Single Malt
Glenfiddich is one of the most popular scotch whisky manufacturers in the world. And the Glenfiddich 12 Year Old is one of the most common and popular single malt scotches on the market. The scotch gives off a fruity aroma. You may also be able to smell hints of chocolate or pie crust. Some flavours reported with this whisky are oak, vanilla, sweet malt, butterscotch, and apple cobbler. Overall, this is one of the smoothest scotches on the market.  
The Glenfiddich 12 Year Old is a good starting point for beginner scotch drinkers. The sweet taste, pleasant aroma, and smooth texture of this single malt makes it appealing to a wide consumer base. It's one of the reasons why it's popular. However, more experienced scotch drinkers may find the Glenfiddich 12 Year Old lacking in features. Several people wrote reviews stating they wished the drink had a more interesting taste.  
Pros
A good

starting drink for beginner scotch drinkers.
Cons
Lacks features of older scotches. 
Best Blended Scotch Whiskey
Johnnie Walker Blue Label
Like Glenfiddich, Johnnie Walker is a scotch whisky institution. The company has produced a popular line of scotches which are separated by colour (red, green, blue, gold, and black). The most popular by far is the Johnnie Walker Blue Label. It gives off a mellow and rounded aroma punctuated by dry smokiness and raisins. The palate is a combination of vanilla, honey, and rose petals. If you hold the liquid in your mouth for a little longer, you'll taste a zesty orange flavour with hints of hazelnut, sherry, and dark chocolate. Lastly, the Johnnie Walker Blue Label has a long and rich finish. This finish demonstrates the smokiness often associated with Johnnie Walker scotches.  
The smooth taste of the Johnnie Walker Blue Label was popular with consumers. However, some experienced scotch drinkers said the taste was lacking in uniqueness. They felt the taste was one dimensional and boring compared to other scotch whiskies. Others complained that the price was too high. Still, the Johnnie Walker Blue Label remained a hit with most scotch drinkers. It is a basic, no frills blended scotch that most people will enjoy. 
Pros
Smooth taste

, a good option for the average scotch drinker. 
Cons
Experienced scotch drinkers may find this scotch bland.

 

  
Best Aged Scotch
Glenfarclas 21 Year Old
There is an abundance of aged scotch whisky. Out of all of them, the Glenfarclas 21 Year Old may be the best. This scotch whisky is matured in an oloroso sherry cask. This process gives the Glenfarclas 21 Year Old an aroma filled with sherried and tropical fruit, along with hints of nutmeg and almonds. The flavour is rich and well rounded with more of the fruity and spicy taste. Lastly, the finish is smooth and long-lasting with a chocolaty texture.  
Many consumers enjoyed the smooth finish of the Glenfarclas 21 Year Old. Several said that the mellow, well-balanced feel of this scotch whisky kept it complex and interesting. However, some people said that this scotch lacked some of the features of older Glenfarclas whiskies, like the 30 year old or 40 year old. Still, most people agreed that the Glenfarclas 21 Year Old was a mellow, rounded aged scotch that was easy to drink.   
As with most aged whiskies, a full bottle of the Glenfarclas 21 Year Old is expensive. However, an alternative is purchasing a 50 ml sample bottle. These are usually priced at $20.00. For this buying guide, we've listed a 50 ml bottle of the Glenfarclas 21 Year Old.  
Pros
Mello and well-balanced

, complex and interesting flavour and texture

.

 
Cons
E

xpensive

,

lacks features of older

Glenfarclas

whiskies.

 
Best Affordable Whiskey
The Famous Grouse
Scotch can be an expensive drink. Luckily, there are affordable options. The Famous Grouse is one such example. This scotch is one of the best-selling brands in Scotland, and for good reason. It has a fruity aroma with hints of shortbread. The taste is a mixture of dried fruit, cinnamon, ginger, and oak. The finish is smooth and well balanced.  
Many customers said the Famous Grouse is a simple and straightforward scotch that offers a lot for its price. However, the drawback with the cheap price is that you'll miss out on some of the characteristics found in more expensive scotches.  
Cons
Lacks features of expensive scotches. 

 
---
Monkey Shoulder
Monkey Shoulder is another fine example of an affordable scotch whisky. This blended scotch has a fruity aroma punctuated by raisins, apples, peaches, and apple tart. The taste is sweet, with vanilla being the most mentioned flavour. Finally, Monkey Shoulder has a smooth finish. Overall, customers thought Monkey Shoulder offered a variety of flavours at a reasonable price. But again, the low price means you won't get the features of higher end scotch whiskies.  
Cons
Lacks features of higher end scotches. 
Best Peaty Scotch
Laphroiag 10 Year Old Single Malt Scotch
Peat is a growth of decaying plant material found in peatlands, bogs, moors, and mires. Since Scotland has a large concentration of peat, it is incorporated into the scotch brewing process. Peat is used as a heat source when the barley is malted. The smoke from the burning peat installs a unique flavour in the grains. That flavour is then transferred to the liquid scotch. Many have described peat scotches as having an intense, smoky flavour. That's why peaty whisky is known as "smoky scotch". 
The Laphroaig 10 Year Old is one of the most popular peaty scotches on the market. The aroma is quite smoky, with some people describing it as campfire smoke. The taste is also smoky, but there are traces of sweetness and sea salt. However, some people reported a medicinal taste to the scotch. While several people were put off by this taste, there were others who did not mind it. The finish to this scotch maintains the smoky flavour. The smokiness lingers until it ends with a sweet taste. 
The majority of customer enjoyed the Laphroaig 10 Year Old for its overall smoky quality. They also enjoyed the spicy and sweet finish. To ease the peat from the scotch, several people recommended adding water to the drink. Doing so revealed more of the sweet flavours. Based on the positive reviews, the Laphroaig 10 Year Old is good starting place for people just getting into peaty scotches. 
Pros
Spicy but sweet.

Good entry level peaty scotch.
Cons
Might have a medicinal smell/taste.

Beginner scotch drinkers may find it too harsh.
Our methodology
For this buying guide, we spent 14 hours researching various scotch whisky brands. We also read scotch whisky reviews from r/scotch on reddit. These reviews informed us on what people thought about the scotch whiskies we selected. Lastly, we consulted trusted scotch related websites when we needed further information on terminology or brewing techniques. After our research, we selected scotches that offered the most features in their respective category.  
Answering your whisky questions
Whisky or Whiskey: Which is the Correct Spelling? 
Whisky is the spelling used for Scottish, Canadian, or Japanese made spirits. Whiskey is the spelling used for spirits made in Ireland and the United States.  
Are Scotch and Whisky the Same Thing? 
You've probably noticed that the terms scotch and whisky are often interchangeably used when describing the liquor. This creates some confusion as to whether they are same thing. To put things simply, whisky is a category of spirits. Within whisky are several variants, like bourbon and rye whisky. Scotch is one of those whisky variants. So technically speaking, scotch and whisky are the same thing. Just remember that not all whiskies are scotches. 
How Do You Drink Scotch as a Beginner? 
There is a process when it comes to drinking scotch. You usually don't down the glass in one go, although you can do this (but we don't recommend it). For beginners, the goal is to let your palate grow, to see which tastes you prefer. Therefore, it is important to slowly drink your scotch so that you don't overload your tastebuds with the harshness of scotch. Here are some steps to take when drinking scotch.  
1) Choose Your Glass: The type of glass you use can impact how you experience the scotch. If you're drinking with water or ice, we recommend you sue a tumbler (a short glass with a heavy bottom). To fully experience your scotch, we recommend you use a Glencairn or Copita glass. They are designed to release the scotch's compounds so you can thoroughly taste your drink.

 

2) Inhale the Aromas: Once you've poured yourself a dram, the next step is to smell the scotch. Bring your glass close to your chin and wave it from side to side. While you're doing this, inhale lightly through your nose and through your mouth. You should be able to smell some of the aromas coming from the scotch. If you notice a burning sensation, lower your glass slightly. If you can't smell any of the aromas, bring the glass closer to your nose/mouth.
3) Take a Sip: After you've smelled the whisky, you can now take a sip. Your first sip should be small. Let the scotch sit in your mouth for a few seconds and swish it against your cheeks. This allows you to taste more of the scotch's flavour. 
4) Take Your Time: Remember, scotch whisky is something to be enjoyed. Therefore, take your time while drinking your scotch. Note the characteristics of the one you've chosen. You can start a journal to jot down the texture, flavour, aroma, and finish of the scotch whiskies you've tried. This will help you develop your palate and decide which scotches you enjoy. 

 
Note: If you want to take the edge of your scotch, add water or ice to it. Adding ice lets you slowly enjoy your scotch. And water can sometimes open up the scotch, revealing new flavours and scents. As you become a more experienced scotch drinker, you can begin to drink your scotch neat without ice or water.  
Why Is Scotch So Expensive?
The reason why some scotches are expensive comes down three factors. First is the age of the scotch. If the scotch is aged 15 years or older, chances are the price will be listed at $100 or over. The older the scotch, the more expensive it will be. Second is the size of the bottle. A one litre bottle will cost more than a 750 millilitre bottle. The third factor is the brand. Some brands have higher prices for their scotch whiskies. For example, Dalmore charges on average $100 or more for their 12 year old scotch. In comparison, Glenfiddich charges between $50-70 for their 12 year scotch.